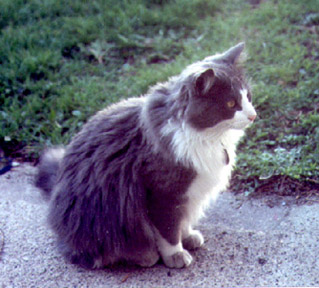 Guy
5/1997 - 9/30/1999
I am very sad to announce the passing of a wonderful companion-animal: my cat, Guy. Yesterday morning he was struck down on the street in front of our home. His body was found by a woman who brought it to Cedar Pet Clinic, where he was identified by his tag. My room-mate, Jill, and I buried him under the lilacs behind the house where he lived his whole life. I'm sure that all those who knew him will miss him, as I do.

Guy was only two and a half years old. He always thrived on affection, and, like a puppy, was there to greet me at the door when I got home from work. His favorite passtime was sitting in windows or under the lilacs where he pursued his career as a naturalist, studying the habits of birds and squirrels. He also enjoyed handicrafts: assisting my room-mate with her cross-stitch projects, and supervising while I did beadwork or graphics.
Guy was known for his exemplary disposition. He shared everything he had with his friend Emily, and graciously shared his food with homeless strays. If cats have nine lives I pray that Guy's next eight will be long and full; his warmth and good character made the world a better place.
Guy's friend, Emily has her own page:
HOME F/SF Art / Kids' Art / Mudra Art / Abstract Art / CafePress Shop / Digital Designs / JewelMarks Beaded Bookmarks / Stories / Filk Songs / Discordian Coloring Books / LiveJournal