NAOMI STONE: You will believe in magic
The 'Thanksgiving' Kindle Scout campaign is now active through November 18!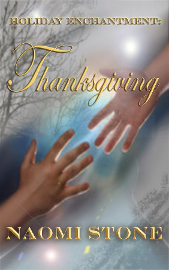 I have very high hopes for this book, originally conceived more than ten years ago as part of a series. I've been revising and polishing the original draft for a couple years now, and am very pleased with the results. (My editor, Lizbeth says it's good too. :)
Thanksgiving (Holiday Enchantment series, #1)
Worlds apart - until the enchantment kicks in...
In this tale based on the classic myth of Cupid & Psyche, Helen, two years widowed, decides to move on with her life and sends a letter of farewell to her late husband's email account. Then she gets a reply. The sender claims /she's/ the one who died. Helen's ready to risk everything to be reunited - crossing alternate dimensions, guided by fairy godmother magic and an enchanted PS - but Jeff doesn't believe in miracles or magic and his doubts may leave her lost in a limbo between worlds.
You can nominate the book here and qualify for a free copy if it's chosen for publication:
https://kindlescout.amazon.com/p/12VF0WOOJIU87
The series was inspired in recognition of the many single women friends I've known who have made successful lives on their own, and deserve love and conviviality over the holidays, even without families to join.
In the Holiday Enchantment series Five single women form a holiday club so they won't have to spend the traditional family celebrations alone. A little fairy godmother magic will change each of their lives forever. All five heroines have known loss - and have gone on to choose paths that affirm life and friendship and caring.
Sign up to receive Naomi Stone's occasional newsletter:
updates, sneak-peeks and more!
To follow Naomi Stone's Blog, or to follow her on Facebook and Twitter, check out the links on the left sidebar. Click on the Book covers above or the Books or Series links to the left for free excerpts and to learn more about each book.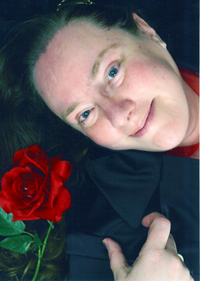 Welcome! Here you can find out all about the magical romances of Naomi Stone, what the stories are about, excerpts, and where they are available.
When I first learned to read I soon fell in love with books and stories. I loved fairy tales and tales of magic from the very start. Even before learning to read, I loved to daydream; I daydreamed myself into adventures with my favorite TV characters. I dreamed up adventures crossing time and space, meeting characters out of history and legend. Books gave me the sense that there was a home waiting for my daydreams, a place where they belonged – and it's my great pleasure now to share them with other readers.
I started with fairy tales and progressed to Fantasy & Science Fiction. In grade school, I devoured every f&sf book our school library had, reading a dozen books a week. As an adult my schedule had to make way for other interests, but I still love reading in the genre that was my first love. I became interested in romances when I read an article about a study that found romance readers reporting themselves generally more satisfied in their love lives. My inner researcher determined to study the genre to see just what it was that might have such an effect. Surprise: romances concern themselves with the issues involved in creating intimate emotional relationships.
| My Supervisor | Quality Assurance Inspector |
| --- | --- |
| | |