/ / / / /
/ / /
Now collected in one volume:
tales from the Files of the Fairy Godmothers' Union
Three Wishes, More Wishes and Faire Play are now available, collected in a single volume:

Sign up to receive Naomi Stone's occasional newsletter:
updates, sneak-peeks and more!
NEW SERIES: Holiday Enchantments
I'm currently working on another novel in the Fairy Godmothers' Union universe - the first of five inter-related stories in which a five single women have banded together to celebrate holidays as a group rather than being alone on those family-intense occasions. Fairy godmother magic is invoked to bring true love to each of them.
Thanksgiving
In this first story, Helen, a widow, deciding it's time to move on with her life, sends a letter of farewell to her late husband's email account -- and gets a reply.
Helen and Jeff were married until death did part them. Now some fairy godmother magic gives them the chance to cross alternate dimensions and extend the contract.
---
---
Young Reader fiction by Laramie Sasseville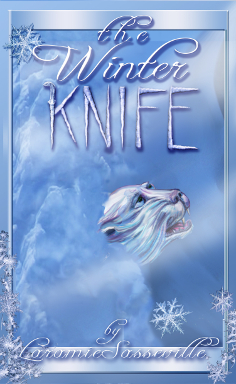 The Winter Knife, a dark fantasy for young readers (unpublished)
At the very worst time of year to be living in Minnesota, fourteen year old Haley Devereaux is ambushed by her own worst impulses. She is geekish and socially awkward, wants to fit in, but also to lash out at those who discount her - like George Morris, star of the Select Ensemble at church. She feels personally responsible when George disappears and is later found dead. Then she recognizes the true culprit in the strange animal she befriended years ago near Superior National Forest. The loggers of the old north woods told tales of this creature which travels beneath the snow to seize its prey. Haley must find a way to save friends and foes alike.
---
All the artwork, illustration, css, graphic and design elements on these pages were created by Laramie Sasseville. For a free consultation on illustration or design services please email the artist.
Last modified:
---
HOME / F/SF Art / Kids' Art / Mudra Art / Abstract Art / CafePress Shop / Digital Designs / JewelMarks Beaded Bookmarks / Stories / Filk Songs / Discordian Coloring Books / LiveJournal