/ / / / /
/ / /
NAOMI STONE: Better Loving through Fantasy
To follow Naomi Stone's Blog, or to follow her on Facebook and Twitter,
check out the links on the left. Click on the Book covers above or the Books or Series links to the left to get details on Naomi Stone's published fiction.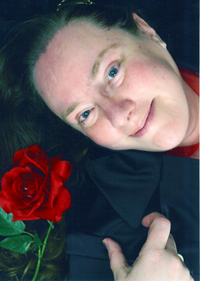 Welcome! Here you can find out all about the magical romances of Naomi Stone, what the stories are about, excerpts, and where they are available.
When I first learned to read I soon fell in love with books and stories. I loved fairy tales and tales of magic from the very start. Even before learning to read, I loved to daydream; I daydreamed myself into adventures with my favorite TV characters. I dreamed up adventures crossing time and space, meeting characters out of history and legend. Books gave me the sense that there was a home waiting for my daydreams, a place where they belonged – and it's my great pleasure now to share them with other readers.
I started with fairy tales and progressed to Fantasy & Science Fiction. In grade school, I devoured every f&sf book our school library had, reading a dozen books a week. As an adult my schedule had to make way for other interests, but I still love reading in the genre that was my first love. I became interested in romances when I read an article about a study that found romance readers reporting themselves generally more satisfied in their love lives. My inner researcher determined to study the genre to see just what it was that might have such an effect. Surprise: romances concern themselves with the issues involved in creating intimate emotional relationships.
My first crush was on Rocky the Flying Squirrel; I later crushed on Alan Alda's Hawkeye character on the MASH tv series, and on Kwai Chang Caine of tv's 'Kung Fu' series... I have a long history of crushes on imaginary characters, so I suppose it was only natural to start writing about imagined love interests such as the amazingly powerful djinni, Al-Marid, of 'Spirited,' and the lovable nerd-turned superhero, Greg of 'Wonder Guy,' - not to mention all the Talented superheroes of the Team Guardian series and the ordinary mortals touched by the magic of the Fairy Godmothers' Union. I hope you'll check them out between the pages of their books.
With strong interests in both genres, my next step was to concern myself with finding and creating stories that could satisfay both the f/sf fan and the romantic in me. Not an easy task. I shuddered at the first 'cross-over' book I met - in which the science of the world-building could only be called ludicrous. I soon tired of vampires and dark, angtsy romances. I wanted imaginative, intelligent stories with a sense of fun as well as romance. When my f/sf fan friends tell me they don't usually read romances, but mine don't detract from the fantasy and adventure, and my romance reader friends tell me they don't usually read f/sf, but mine work as romances, I think I've succeeded.
~ Naomi Stone
| My Supervisor | Quality Assurance Inspector |
| --- | --- |
| | |
---
Links

The Writers' Vineyard
This blog features articles on writing and story-telling by the authors of Champagne Books, featuring a monthly post by Naomi Stone.

Midwest Fiction Writers (MFW)
The Minneapolis area chapter of RWA, an organization dedicated to helping writers at all levels advance their skills and careers

Minnesota Scientifiction Society (Mnstf)
The oldest f/sf fan organization in the Minneapolis/St Paul area

Minicon
The longest-running fan-run f/sf convention in the Twin Cities area

Kensington Books
Publlisher of 'Wonder Guy' an urban fantasy romance from the files of the Fairy Godmothers' Union

4th Street Fantasy
creating a conversation among writers and professionals in the fantasy genre

Champagne Books
Publisher of 'Spirited' and the Team Guardian Adventures

The Rivendell Society
studies and discusses myth and fantasy in the tradition of Tolkein and the Inklings

Smashwords
Publisher of the Fairy Godmothers' Union story collections
Critique Partners
Lizbeth Selvig

Author of Single Title Contemporary romances through Avon's Impulse line, a Golden Heart award winner and wonderful friend.
Nancy Holland
Golden Heart finalist represented by the Greyhaus Agency
Ellen Lindseth
Golden Heart finalist and author of romantic suspense stories
set on the Home Front during World War II
---
---
Young Reader fiction by Laramie Sasseville'
The Winter Knife, a dark fantasy for young readers (unpublished)
At the very worst time of year to be living in Minnesota, fourteen year old Haley Devereaux is ambushed by her own worst impulses. She is geekish and socially awkward, wants to fit in, but also to lash out at those who discount her - like George Morris, star of the Select Ensemble at church. She feels personally responsible when George disappears and is later found dead. Then she recognizes the true culprit in the strange animal she befriended years ago near Superior National Forest. The loggers of the old north woods told tales of this creature which travels beneath the snow to seize its prey. Haley must find a way to save friends and foes alike.
Published Short Fiction:
First published as a winning entry in the Minneapolis' City Pages annual Fiction Contest
Originally published in 'Spinning Free'
First published in 'Daughters of Nyx'
Mission Improbable, a magical romance
from the files of the Fairy Godmothers' Union, True Love Local
Available in 'New Love Stories Magazine' December 2009 issue.
The Wind from the Lake
Included in the Midwest Fiction Writers' Anthology, Love in the Land of Lakes
All the artwork, illustration, css, graphic and design elements on these pages were created by Laramie Sasseville. For a free consultation on illustration or design services please email the artist.
---
Last modified:
---
HOME / F/SF Art / Kids' Art / Mudra Art / Abstract Art / CafePress Shop / Digital Designs / JewelMarks Beaded Bookmarks / Stories / Filk Songs / Discordian Coloring Books / LiveJournal