/ / / / /
/ / /
NAOMI STONE: You will believe in magic
Now together in one volume: all eight short stories from the files of the Fairy Godmothers' Union: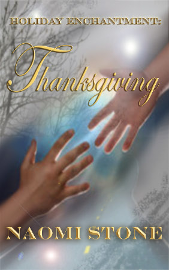 Worlds apart - until the enchantment kicks in...
In this tale based on the classic myth of Cupid & Psyche, Helen, two years widowed, decides to move on with her life and sends a letter of farewell to her late husband's email account. Then she gets a reply. The sender claims she's the one who died. Helen's ready to risk everything to be reunited - crossing alternate dimensions, guided by fairy godmother magic and an enchanted GPS - but Jeff doesn't believe in miracles or magic and his doubts may leave her lost in a limbo between worlds.
The series was inspired in recognition of the many single women friends I've known who have made successful lives on their own, and qhodeserve love and conviviality over the holidays, even without families to join.
In the Holiday Enchantment series Five single women form a holiday club so they won't have to spend the traditional family celebrations alone. A little fairy godmother magic will change each of their lives forever. All five heroines have known loss - and have gone on to choose paths that affirm life and friendship and caring.
Sign up to receive Naomi Stone's occasional newsletter:
updates, sneak-peeks and more!
To follow Naomi Stone's Blog, or to follow her on Facebook and Twitter, check out the links on the left sidebar. Click on the Book covers above or the Books or Series links to the left for free excerpts and to learn more about each book.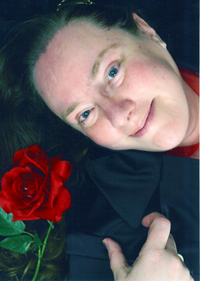 Welcome! Here you can find out about the magical romances of Naomi Stone, what the stories are about, excerpts, and where they are available.
 My first crush was on Rocky the Flying Squirrel... I have a long history of crushes on imaginary characters, so I suppose it was only natural to start writing about imagined love interests such as the amazingly powerful djinni, Al-Marid, of 'Spirited,' and the lovable nerd-turned superhero, Greg of 'Wonder Guy,' - not to mention all the Talented superheroes of the Team Guardian series and the ordinary mortals touched by the magic of the Fairy Godmothers' Union. I hope you'll check them out between the pages of their books.
With strong interests in both genres, my next step was to concern myself with creating stories that could satisfy both the f/sf fan and the romantic in me. Not an easy task. I shuddered at the first 'cross-over' book I met - in which the science of the world-building could only be called ludicrous. I soon tired of vampires and dark, angtsy romances. I wanted imaginative, intelligent stories with a sense of fun as well as romance. When my f/sf fan friends tell me they don't usually read romances, but mine don't detract from the fantasy and adventure, and my romance reader friends tell me they don't usually read f/sf, but mine work as romances, I think I've succeeded.
---
Links

An occassional blog by Naomi Stone

Midwest Fiction Writers (MFW)
The Minneapolis area chapter of RWA, an organization dedicated to helping writers at all levels advance their skills and careers

Minnesota Scientifiction Society (Mnstf)
The oldest f/sf fan organization in the Minneapolis/St Paul area

Minicon
The longest-running fan-run f/sf convention in the Twin Cities area

The Rivendell Society


studies and discusses myth and fantasy in the tradition of Tolkein and the Inklings

4th Street Fantasy
creating a conversation among writers and professionals in the fantasy genre

Smashwords


Publisher of the Fairy Godmothers' Union story collections
---
All the artwork, illustration, css, graphic and design elements on these pages were created by Laramie Sasseville. For a free consultation on illustration or design services please email the artist.
---
Last modified:
---
HOME / F/SF Art / Kids' Art / Mudra Art / Abstract Art / CafePress Shop / Digital Designs / JewelMarks Beaded Bookmarks / Stories / Filk Songs / Discordian Coloring Books / LiveJournal