/ / / / / /
To follow Naomi Stone's Blog or on Facebook and Twitter,
check out the links on the left.
Now Available:

More Wishes

;
featuring tales from the files of the
Fairy Godmothers' Union, True Love Local
Smashwords / Kindle / Createspace

Safe Haven: sequel to Sweet Mercy
available from Amazon, Barnes and Noble, and for Apple devices
Rachel Connolly, the heroine of Sweet Mercy has a brother, David Connolly, Coordinator of Team Guardian, an organization of people gifted with special abilities - or Talents - created as an after-effect of the Probability Bomb that shook the foundations of reality ten years ago, transforming the world as we knew it.
Beth Talbot's psychometry Talent is a curse as well as a blessing, making Time for her less a smoothly-flowing river than a storm-tossed ocean. She sees David Connolly as a rock of stability in that maelstrom, with his Talent for neutralizing other Talents like hers. But how can she even try to turn his attention her way when everyone on Team Guardian needs him, especially with a mad Talent out to take control of the entire world's computing - and banking - systems.
Wonder Guy, a magical romance
from the files of the Fairy Godmothers' Union

First published by Lyrical Press
available at Amazon through Kensington Books

Greg Roberts has been in love with the girl next door since they were both twelve, but Gloria Torkinson is engaged to marry someone else. Greg can only respect her choice in the matter - until his fairy godmother pops in with a different idea. As a mysterious, masked superhero Greg can appear to Gloria in a whole new light and win her love. But super-heroing is trickier than Greg knew, creating its own problems and uncovering inimical forces in his world that he never suspected. He'll have to discover the true hero in himself before he can set things to right and win at love.
Spirited! a Magical Romance

Now available from Amazon, Barnes& Noble, and for Apple devices
Amelia Swenson's plans for the weekend didn't include a sexy djinni or saving the world from demons, but plans change.
Her whole life changes when Amelia discovers the ring to which the handsome djinni is enslaved, and at the same time accidentally unleashes a demon into the world. The djinni, Al-Marid has been alone for three thousand years -- is it any wonder he falls for the woman who frees him? But who ever heard of a lilit? Lilits prey on men, drive them to madness, kill children, and cause miscarriages. And now Amelia has let one loose on her city.
Tweetsby @NaomiStone0RWA
Love in the Land of Lakes
My story, 'The Wind from the Lake' appears in this anthology of short stories by members of the Midwest Fiction Writers, a chapter of Romance Writers of America. All proceeds for Love in the Land of Lakes go to benefit the organization, which supports and educates writers at every stage in their careers. The stories are all set in Minnesota, at, on, in or near one of our 10,000 lakes, and range from sweet to spicy, contemporary to historical to paranormal - a little something for readers of all sorts.
Sweet Mercy

a Superhero Romance novella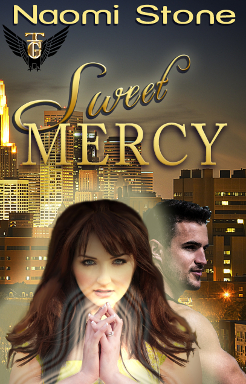 available from Amazon, Barnes&Noble, and for Apple devices
When Rachel Connolly -- a Reverse Empath -- and Franklin Luke Delano (Fluke) -- a Probability Talent -- meet in the course of capturing a would-be bomber, she knows that he knows she's attracted to him. He can't help it -- no one in Rachel's vicinity can help knowing everything she feels. Fluke can disarm a bomb because he's just that lucky, but he's never met another woman who makes him feel the way Rachel does.

They have little time to explore their powerful connection before they must draw a mad Puppet Master into the open. Mesmero can use others as his mindless puppets and before all is over, Rachel, Fluke, and the rest of Team Guardian must work tirelessly to stop the villain from carrying out his deadly plans to wreak revenge on those he imagines have wronged him.
Three Wishes
Three Wishes - a collection of three urban fantasy romance stories.
Available through Kindle, Smashwords and other popular vendors. A print on demand version is available through Lulu: http://www.lulu.com and Createspace
Sometimes True Love needs a little help. That's where the Fairy Godmothers' Union, True Love Local steps in. 'Three Wishes' tells three loosely related stories in which the fairy godmothers help unite three couples to fulfill their destinies together.
In Every Day an Hour is the story of Jordan and Renata, who were divided by misunderstanding before they ever had the chance to get started together. It takes a dose of magic to dispel the misunderstandings and give love its chance.
In Happy to be Stuck With You it takes a fairy godmother's interference to get practical security-expert Craig and New Age mystic Amy together in one place long enough to see past their differences.
In Your Dreams' calls on the fairy godmothers to free Linda from the enchantment that has kept her from being her true self and letting Tony, the man she secretly loves, see the true beauty within her.
Reviewers on Amazon say:
'A lovely collection of very real-emotion romance stories with a light touch of whimsical magic'
'Perfect when you need to renew your faith that someone is looking out for your love life. More, please?
' If you loved fairy tales as a child and , like me, always wanted a fairy godmother, you must read this collection. Three Wishes was just a delight!'
' The tales in "Three Wishes" are gentle, fun, and happily-ever-after all the way.'
Now:
More Wishes
from the files of the Fairy Godmothers' Union; True Love Local
Available through Smashwords / Kindle and other popular vendors. Print on Demand available at Createspace
Sometimes True Love needs a little help. That's where the Fairy Godmothers' Union, True Love Local steps in.
'Mission Improbable is the story of a couple in trouble - until a fairy godmother helps them to see each other a little differently…
In 'Unmasking' it takes a fairy godmother's interference to get Rosalie the right costume to wear to the Comix Convention where she and Steele can each discover the other's true identity.
'Switcheroo' and 'Switchertoo' tell the stories of two college room mates with very different lives. A fairy godmother's magic allows them to learn what they need to know to improve their love lives by stepping into one another's shoes.
Young Reader fiction by Laramie Sasseville'
The Winter Knife, a dark fantasy for young readers (unpublished)
At the very worst time of year to be living in Minnesota, fourteen year old Haley Devereaux is ambushed by her own worst impulses. She is geekish and socially awkward, wants to fit in, but also to lash out at those who discount her - like George Morris, star of the Select Ensemble at church. She feels personally responsible when George disappears and is later found dead. Then she recognizes the true culprit in the strange animal she befriended years ago near Superior National Forest. The loggers of the old north woods told tales of this creature which travels beneath the snow to seize its prey. Haley must find a way to save friends and foes alike.
Published Short Fiction:
First published as a winning entry in the Minneapolis' City Pages annual Fiction Contest
Originally published in 'Spinning Free'
First published in 'Daughters of Nyx'
Mission Improbable, a magical romance
from the files of the Fairy Godmothers' Union, True Love Local
Available in 'New Love Stories Magazine' December 2009 issue.
The Wind from the Lake
Included in the Midwest Fiction Writers' Anthology, Love in the Land of Lakes
All the artwork, illustration, css, graphic and design elements on these pages were created by Laramie Sasseville
For a free consultation on illustration or design services please email the artist.
Last modified:



HOME / F/SF Art / Kids' Art / Mudra Art / Abstract Art / CafePress Shop / Digital Designs / JewelMarks Beaded Bookmarks / Stories / Filk Songs / Discordian Coloring Books / LiveJournal